Want to learn Adobe After Effects? Follow these YouTube channels to get started!
October 6, 2018 Inspiration & tips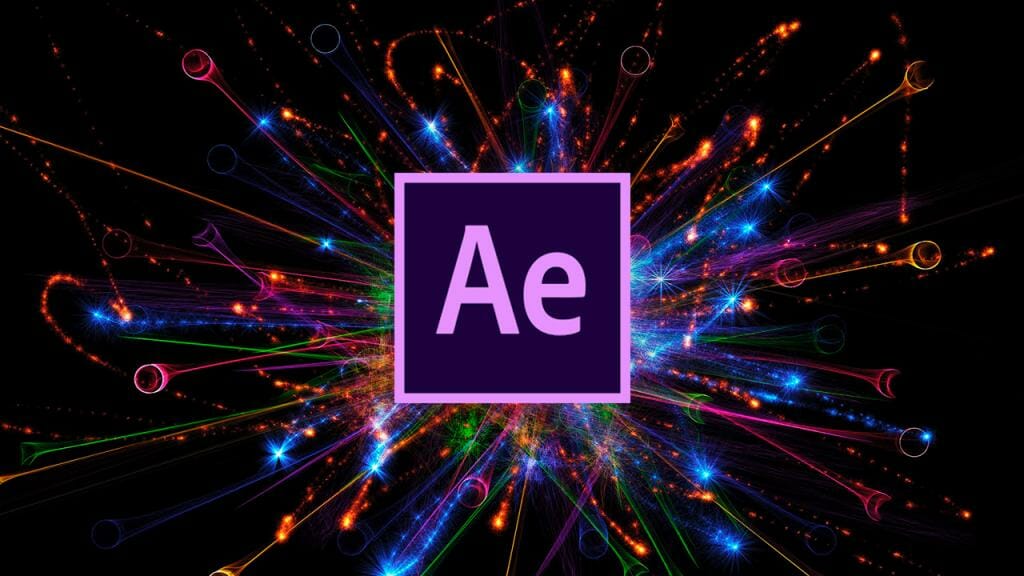 Continuation to "basic" video editing
Adobe After Effects — what a great program. After Effects, or "AE", makes a crazy deal and it's a permanent  part of at least my video editing process — After Effects is a bit like a "hand extension" for Premiere Pro. Although with Premiere you can get very far — usually the thing goes like this: what you can't do for video in Premiere, you can usually do it in After Effects. And many times, for example, if you have to do a simple animation with the Premiere — I tend to throw things straight into After Effects. The possibilities of After Effects are almost limitless(!)
I use After Effects around 99% in each video project. For this reason, for example I always make a certain folder structure when I create a new video project (on this subject I'll maybe write a very own article) — I always make beforehand the "PR"- and "AE" -folders, because I am quite sure that at some point I will use After Effects (AE). And the "PR" -folder is for the Premiere project files.
What is After Effects?
"Adobe After Effects is a digital visual effects, motion graphics, and compositing application developed by Adobe Systems and used in the post-production process of film making and television production. Among other things, After Effects can be used for keying, tracking, compositing and animation. It also functions as a very basic non-linear editor, audio editor and media transcoder." — according to WikiPedia
Where do I use After Effects?
Well, as I just said I use AE for example whenever I need to animate some text, picture, shape or other — a.) in After Effects you can actually do the animations much easier in the first place and b.) you can fine tune your animations way better and more easily in AE. You can also do some "video correction or fixing" — that is if you need to like remove something from your video or add something to your video, then immediately bring things straight to After Effects.
After Effects is at its best if you need to "track" something to your video, I mean if there is a 3D element or something else you want to add to the video that it is like part of the video or the scene (added elements moves with the camera) — in that case again — immediately use After Effects. Here's an example:
At first I had to look and read lot of tutorials from the internet — and I still have to, even though I have used After Effects for many years now. Whenever I get some idea maybe of ​​a smokey logo or something, I often go to YouTube and look for tutorials — and I try to find good ideas and ways to achieve what is on my mind. After Effects is a very "large" program so you always learn something new — for example, at least better and more effective ways to create things.
The "need"
Things starts always to happen if you have the NEED to achieve or create something; for example if you have the need to get the 3d element tracked into the video — then you must open YouTube and After Effects and start searching for solutions. There is no other way to do that if you work alone. YouTube has been my teacher, and it can be anyone else's teacher.
Here below are some of the best YouTube channels for how to get started with After Effects. I always put a few example videos (of current channel that I'm discussing about) to underneath each title for that you can get the feeling of the channel. The first two channels in the list are channels which I have talked before in our previous articles, but I must put them here because you can't talk about After Effects without talking about them. So —
Video CoPilot
If you mention the word "After Effects" — then you have to mention Video CoPilot's Andrew Kramer. Although I have spoken about Andrew and Video CoPilot in our earlier article, he is something I have to mention here again, because this article focuses specifically in After Effects. After Effects = Andrew Kramer. They're one. Nothing else.
Andrew at his best:
Andrew released a while ago an epic FREE add-on for AE — see below:
Red Giant
You should follow the Red Giant channel. From them you can get very useful and good add-ons for After Effects (and Premiere) — with those add-ons you can get your program — and your work to the next level! Red Giant makes tutorials, but they rarely JUST talk about THIS AND THAT -tips about After Effects — because they have their own point to introduce their own products (those add-ons) through their tutorials and short films. BUT — if you buy eg. the Trapcode Particular, I would recommend watching tutorials by Red Giant about it because they are the creators of that add-on. Just saying.
A very worthwhile channel when talking about the After Effects — and you could have spot Red Giant before when we wrote the "Do you want to be a Filmmaker" -article.
Here's a couple of new tutorials by Red Giant:
ECAbrams
I have followed ECAbrams a very long time, I think it was when I was looking for the first tutorials related to AE so I came across with Abrams's channel. A qualified guy and gets involved in a variety of issues related to After Effects. A recommendation.
Surfaced Studio
Tobias is a tough guy to tell about AE (and many other things) on his Youtube channel. I put his tutorial to earlier article about "The Best & FREE Video Editing Program for Beginners Getting Started" and Tobias told us how to use HitFilm. Good man, I can not say anything else but I recommend you to visit his channel.
Ignace Aleya
Ignace Aleya is a relatively new channel for me (perhaps for the last 1,5 years I have been following him) — but he makes good tutorials. I started watching him when he had some 30,000 followers and now his YouTube channel has now grown to a big community with nearly 200,000 followers. Look and love!
Creatrix Visuals
Chris Connor has couple of good tutorials that supports the world of After Effects. I put them under. He does not make YouTube so regularly, so you should not wait for daily or even weekly tutorials. But — a qualified, eager and young guy.
After Effects tutorials by Mikey
Here's the Mike's Channel Presentation Video:
I has been subscribing to Mikey's channel for a long time and from time to time he uploads a new tutorial from where you can learn something new. Mikey is also a qualified guy among others, and here's one good tutorial by him:
A nice and compelling AE -tutorial
I do not list Peter McKinnon's channel here as "a one of the After Effects channels" because his channel is NOT really about After Effects. But — I recently came across this tutorial where Peter is explaining After Effects for absolute beginners and it was so funny:
Hey – do not change when you practice VFX!
Yes! Epic things! Keep in mind that you can ask for more information from me if anything was unclear.
Buy Adobe CC
► Get Adobe Creative Cloud
Create subtitles automatically with Maestra
You can create the subtitles automatically with Maestra. You can also do voiceovers and transcriptions with Maestra (automatically). I am their affiliate so if you want to support my channel, please click the link above to register and check Maestra out. The first 30 minutes is FREE minutes as you start using Maestra.
► Try Maestra (create Subtitles automatically for your videos)
Conclusion
So, hope you liked this tutorial and it gives you the information you need! Ask for more at any time. Also read my previous articles. Hey, also remember to follow my channel in Youtube! And thanks for watching! I appreciate that.
Other articles to read:
Share this article:
---
GEAR THAT WE LOVE, USE AND RECOMMEND
Like OLOHUONETUOTANTO (Living room Productions):