How to make VOICE OVER for your Videos in Adobe Premiere Pro (Beginner Tutorial)
May 28, 2020 Tutorials
Create epic VOICE OVER for your Videos in Adobe Premiere Pro
This is an important topic to keep in mind: if you make YouTube videos (or any other videos) and you have a VOICE OVER (background speech) in your video — you should pay attention to its clarity and intensity.
I wouldn't actually recommend publishing any video with "background speech / voice over" which has just came out from the microphone. Personally, at least I edit my voice overs before I publish the video — always. In this video we will take a look at a few tips on how to make your own voice over clearer and better sounding and some other things. I designed this tutorial for beginners, so I explain things a lot.
In this Voice Over tutorial
00:00:01 Intro
00:02:04 What gear I use
00:03:22 Organizing the Audio Clips & Audio Track Mixer
00:09:05 Audio Effects: Dynamics (Compressor)
00:14:14 Audio Effects: Multiband Compressor
00:19:02 Audio Effects: Mastering
00:26:20 Audio Effects: DeNoise
00:29:00 Master Audio Track & Dynamics: Limiter
What you will learn?
In this video you will learn how to make epic Voice Overs for your videos with Adobe Premiere Pro. We talk about gear (what microphone to buy), how to organize audio clips to Premiere timeline and basics of how to use Audio Track Mixer in Premiere Pro. Of course we also talk about what effects to use when creating great a voice over — like Dynamics, Multiband Compressor, Mastering and DeNoise effects. The last effect we discuss about is Dynamics's limiter option — how to use it and why. Hope you learn a ton in this tutorial!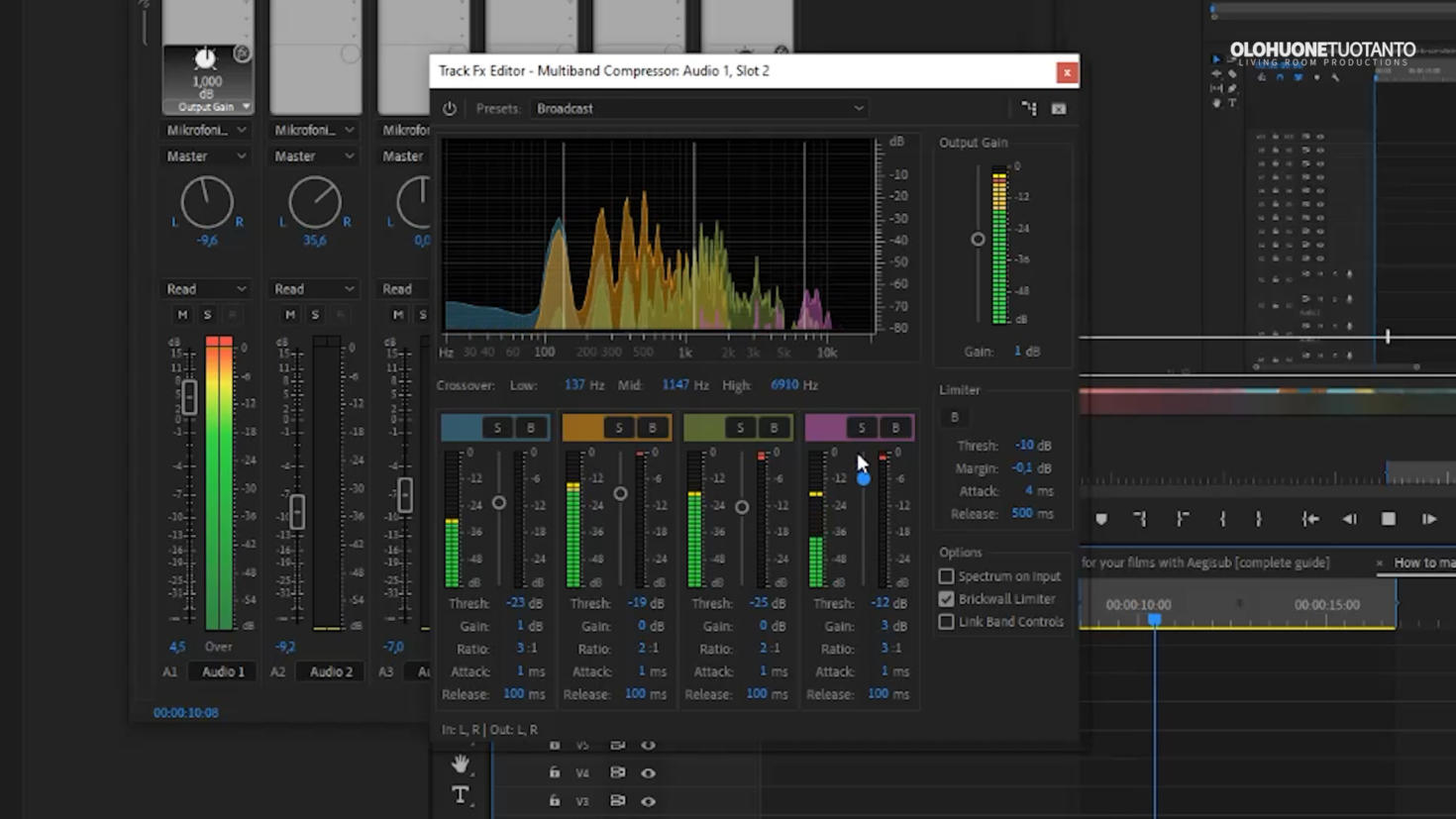 The Audio Track Mixer -tutorial I mentioned in this video
► How to use Audio Track Mixer in Adobe Premiere Pro (tutorial)
I also mentioned that I would put a link to a place where you can read more about the Audio Effects that we are using in this tutorial
► More info about the Audio Effects here
Buy stuff
► Get Adobe Creative Cloud
► Get Rode NT USB microphone
► Get Rode Arm Stand (PSA 1)
About Maestra
You can create the subtitles automatically with Maestra. You can also do voiceovers and transcriptions with Maestra (automatically). I am their affiliate so if you want to support my channel, please click the link above to register and check Maestra out. The first 30 minutes is FREE minutes as you start using Maestra.
► Try Maestra (create Subtitles automatically for your videos)
Conclusion
So, hope you liked this tutorial and it gives you the information you need! Ask for more at any time. Also read my previous articles. Hey, also remember to follow my channel in Youtube! And thanks for watching! I appreciate that.
Other articles to read:
Share this article:
---
GEAR THAT WE LOVE, USE AND RECOMMEND
Follow OLOHUONETUOTANTO (Living room Productions):