Feelings, experiences and practical tips on How to Get Your Film to Film Festivals?
May 7, 2018 Blog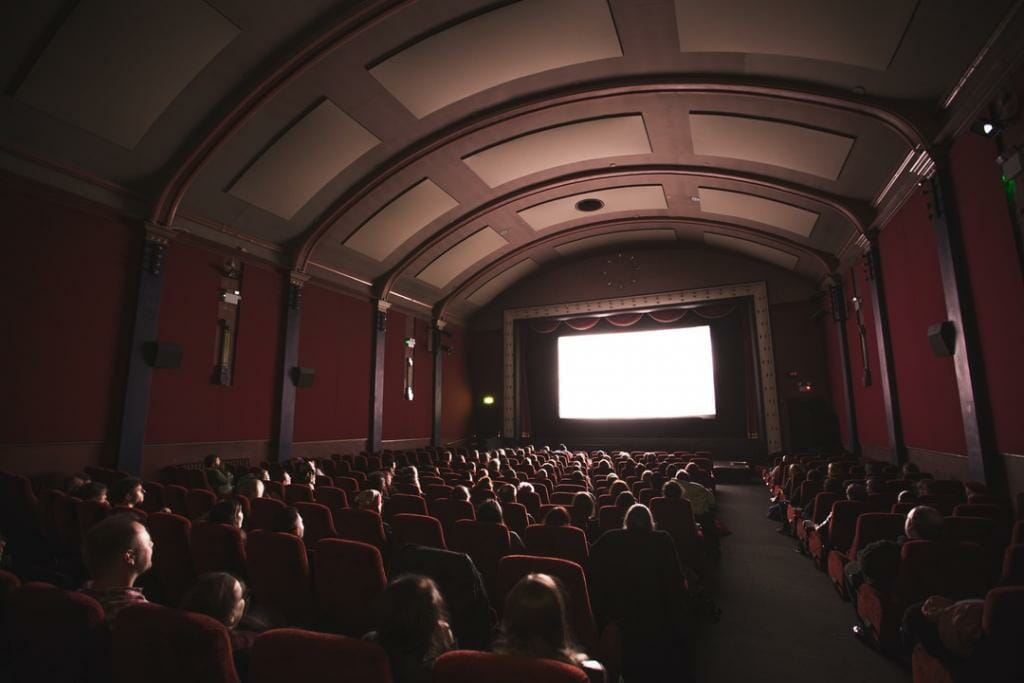 Forewords and towards film festivals
Are you dreaming of having your own movie screened in a film festival? How can practically get my own film to film festivals? There is nothing more to be done than sending a complete movie to the festivals and waiting for the best. So that's it basically, but there's a lot more to that. First of all, you have to get your own film done, which is a own project and process itself. When you start to send a movie to festivals, it would also be good to have supplementary material of your movie; such as pictures, posters, cover letters, "submission video" and "exhibition video" and so on – these are discussed more closely later. But, assuming you've got your movie ready – so then what? Do not in any case leave it in the desk drawer to dust – lot's of time, money, sweat and blood is usually used for filmmaking. And movies are rarely done alone, so it is necessary (and at least it would be good thing) to take account the input of the fellow filmmaking crew or the friends who has helped you to get the film done. That reason is alone enough to even try your best to have the movie viewed by as many as people possible.
A few words about this article
I will start this article by telling general info about film festivals and then discussing the reasons why it would be worthwhile to go to the festivals and what things I feel are important. The article also has my own reflections and experiences (point of view that I live in Finland) regarding festivals and thoughts about making indie films with zero budget. However, the main point in this article is that YOU get ideas, instructions and just practical ways to finally get your movie sent to film festivals. I try to write as straightforward as possible and without beautifying things.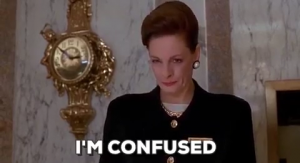 This article has a lot of different terms, words and phrases that I'm trying to clarify as soon as I mention it. So, do not worry – if you do not understand what you read immediately – hopefully the clarification will soon come.
The range of film festivals is colourful
Let us finally go into the matter; the range of film festivals is wide, there is a lot festivals in the world and new ones are born all the time. There are also good, respected and international film festivals in Finland also. I have thought from the beginning that, since we are making movies so let's try to aim to the international markets absolutely – without forgetting of course the Finnish film festivals. But if we are talking honestly, there are quite different movie markets abroad than in Finland. And wouldn't that be great to have your own indie movie on international waters. Indie film -term (independent film) usually means a small budget movie produced by a small movie studio or a single person. In these contexts, we also talk a lot of about "zero budgets" films.
As has been said, there are many film festivals in Finland, and perhaps the most famous are the Love & Anarchy Film Festival, Sodankylä-, Espoo- and Tampere International Film Festival. Tampere also hosts a smaller TUFF (Trash & Underground Film Festival) and, for example, Kouvola's own film festival, to which we have received the honor to watch our films. A film festival is held here in Central Finland also; one of the best known could be the Arktisen Upeeta -Film Festival. However, there has not been a call for any of the (before)mentioned domestic (big) film festivals, but for some reason they have accepted us abroad more times than in Finland. Of course, the foreign festivals that we have been accepted with our films still have been a bit small – although the foreign film festivals are always a really great thing. So, based on research and my gut – in a way "small" foreign film festivals can be talked about if the festival has been arranged for less than a dozen times – like that, the festival has not run longer than ten years (usually film festivals are held yearly). Of course there are always exceptions in these cases.
The largest and most famous foreign film festivals have been arranged for many decades and have visitors from thousands to even hundreds of thousands. For example, the Film Festival Cannes was founded in 1949 and the number of visitors (and important contacts) is on their own class and at the Toronto International Film Festival is attending somewhat 400,000 visitors annually when it is held. We are talking about relatively large figures here.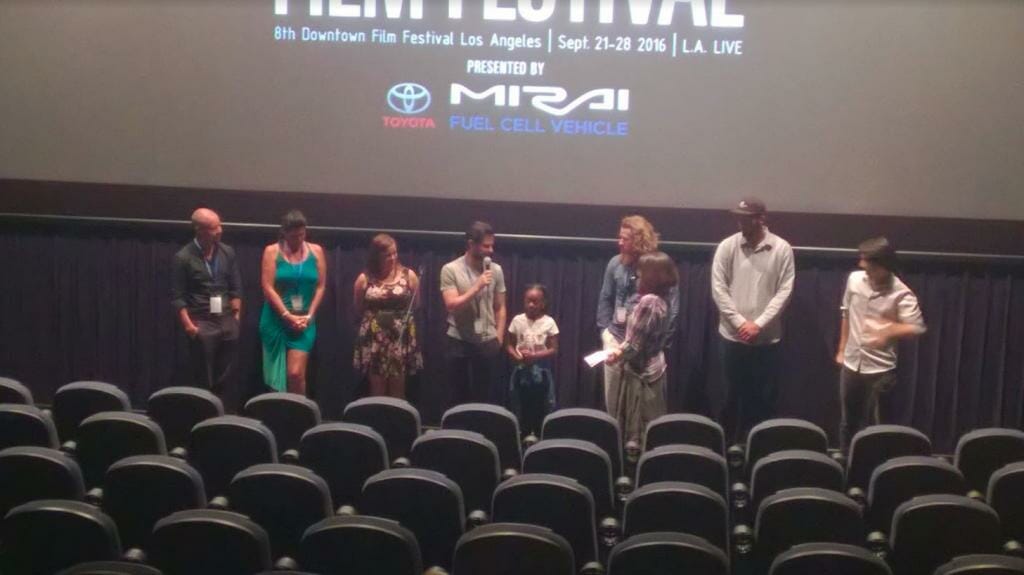 On my opinion, the biggest film festival we've ever had accepted (with Tutorial -horror short film) has been the Down Town Film Festival in Los Angeles. It was held for the eighth time and at least according to their web site there was a lot of people attending there and the festival atmosphere was really good. In addition, this festival is held in the Mecca of movies – Hollywood, Los Angeles Down Town, in a big movie theater (LIVE Regal Cinemas), so it was also worthwhile to go there and see the screening our Tutorial -short film. When I got myself on the spot, the movie theater did not have a lot of people there, but there were mostly the creators who had also got their own short film to be screened in DTLAFF. The most memorable moments were when the Tutorial was screened, when I got to talk a few words about the Tutorial's filmmaking process in front of the cinema hall  – and it was possible to change a few sentences with other creators after the screening.
Why to send your film to a film festival in the first place?
As I've already mentioned the word important contacts – in the movie business there are (actually in the every corner of the world) very small circles and usually it is enough that someone knows somebody and again he knows another – and if they know YOU maybe you can get to be a part of their next movie project, for example. So, basically you don't need to have more than ONE right person who happens (for example in a film festival) to see your work and somewhat likes what he just saw. He can be the determining person who, for example, offers some job in the film industry – or something else. At least I try to believe that at some point some important person will see our movie and there will be some benefit, or someone will get benefit of it. By the "benefit" I mean someone – for example, a costumer could for example get a job like this "oh, she did some fine costumes for that movie – could she be interested to make costumes for our movie also". So – like a  "bushradio" it also goes here in Jyväskylä – on a little smaller scale though, but I believe (and I know) that the same rules apply abroad. You just have to try it, and fail and try again, you will get at some point some benefit back. Many good things have followed also our projects, if not directly, at least indirectly!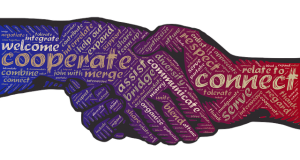 So, people & contacts – maybe be the one main reason why I would send a movie to a film festival. Of course in a festival people have at least the opportunity to see your film – andd on a large screen and with good sound. If you can get to the screening on the spot, you could get a chance to tell a few words about the movie in front of the audience. The people that visit festivals have a common interest – you can assume they are interested in movies and filmmaking, so at least you can hope that there is some interesting people you could meet. I don't think many people who think that they don't care movies (or filmmaking) will be present in festivals. Well, who knows.
Today's world is so incredibly small – thanks to and apologizes for social media – that you never know what's going to happen. I'll tell you an example: we made recently a Star Wars fan film and one of our actors posted a production image (of the film) on her Twitter account – and that image was liked by, who else than Luke Skywalker – the star actor of Star Wars -francise. This "liking" was reported even on Keskisuomalainen -newspaper. Heh.
How can you practically get your film to festivals?
1. SFG – Search f..rom Google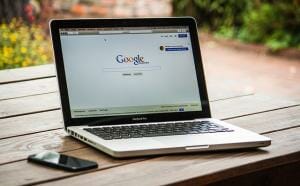 There are many ways how we could start: if we start from zero, the first advice is to explore and research what festivals are organized locally and why not even abroad. Google for example "Finnish Film Festivals" and you can easily find a Wikipedia article in which they have listed a large portion of Finnish film festivals. If you are looking for foreign film festivals, you can find a Wikipedia article about that too. Be sure to also look whether a film festival is held locally in your city.
When you know what festivals are held and where, go to their home page and examine how to send your film for them. There is often a registration form on the festival's web site where you can register to the festival (and send your film link). The festivals typically have deadlines allowing movies to be sent (within those times) and fortunately festivals usually announce extremely clearly their own deadlines. You should be careful about those times, because you can save clear money if you send your movie within the so-called "early bird" deadline for festivals. Early bird time is the first time range when the a festival starts receiving submissions. If you submit your film near the final deadline, you may need to pay double (compared to the early bird price) for just the joy of submitting your film to festivals. Be sure to know this: the registration (and paying) DOES NOT guarantee that your movie will be selected for festivals. So it is a good idea to be mentally prepared for to receive a letter of rejection at any moment – and of course for the letter of acceptance which says your movie has been selected for festivals. "It's a fifty-siksty," said one Finnish person.
By the way – if possible, I recommend subscribing to film festival newsletters, I can say you will be better "on the map" for example about the film festival deadlines.
2. A little different way to get your film to the festivals
The next tip is to continue to explore the web pages of film festivals, find the email / phone number of the festival's contact person (organizer) and send a message directly to him asking if it is possible to get your film for their festival. This way is a bit "off the grid", perhaps not so recommended, but it can always be tried. Sure, if you are planning to submit  by this way, it would be good to as polite as possible, because on default festivals require all participants to go through a certain procedure – which is filling maybe a registration form and submit the film and all the details through that (plus usually pay a registration fee at this point). I have tried this method only for couple of times since I rarely search new festivals through Google or websites nowadays. But I'm mentioning this WAY because what I have heard, that this style in päsee sometimes vary. There is no attempt to do this and many ways in this area are allowed. It may not be wrong to ask – and ask nothing to pay for it.
3. Easiest way to send your film to festivals is through online services
Then a little bit about the way I usually send movies for festivals today. There are a number of online services with you can search for movie festivals and send your film to a "suitable" festivals – such as Withoutabox, Reelport, Filmfreeway. One good thing with these online services is that you can browse large amount of festivals relatively quickly and find out if your movie is "suitable" for the festivals you would want to send it to. By "suitable" I mean that festivals typically search movies for screenings, for example based on a particular genre, length, and method of production, and put them in different categories to compete for example "Best Student Film" -award. There are also those festivals where there is no competition at all.

Plus, with online services you can easily browse the festivals by variety of search criterias; eg. deadline, submission fee, genre and "years running" (how many years the festival has run). This way, you can quickly see what kind of festivals you would like to submit your film and to what festivals your film will more likely get accepted in. And "to what festivals your film will more likely get accepted in" I mean that I have not really tried to get my films for festivals that have been running for example 50 years, because these festivals typically cost a lot and only accept the best ones (at least that is what my gut says). Sure, you never know if you don't try but the since we are doing films with "zero budget" we must always check the wallet. In addition the big festivals gets  thousands of thousands of movies so the likelihood to be accepted is always lower. Of course – if you get your film accepted to the most prestigious festivals a.) You Can and have to be really proud about that b.) there is a bigger probability for the movie to seen by an "important person".
Festivals prices and fees
It is worth knowing that sending filmi to festivals is not free. Submitting costs typically 20$ – 40$ – depending on the festival and whether you send your movie as early bird or the with last ones. At most, submitting films for festivals can easily cost over 100 € and at cheapest you can submit like under ten euros – or some are even free.
Whether I am to submit our films to festivals – the PRICE is really what matters a lot. When browsing the festivals I often note that if I send my movie to a one big festival (which would cost, for example 80$), I would get the film submitted for three or four a bit smaller festivals for the same price, and in which the film is also more likely to get accepted in. Just to remind again, if you submit for the festival and you pay the registration fee (for example 100$) – IT DOES NOT guarantee that you will be accepted for the festival. And if you get the message that "unfortunately your film was NOT among the selected ones..", the precious 100 dollars just disappeared like ash in the wind. My intention is NOT to speak in negative tone in any way, but just saying – that's the case.  If a negative answer comes, some film festivals write a long (like) regret message and about the reasons why the film was not selected and some festivals do not comment much on it. And if you get accepted, that starts a positive and a bit different rumba!
So, very rarely I submit on a festival which will cost more than 50$ – on average the prices (of festivals) which I can afford to pay have ranged between 0$ – 45$. And – I have spend money on festivals (sometimes) for about 0$-150$ within a few months – depending on whether there are any suitable festivals for our films. If we had external financiers and thousands of euros only to use for submitting our films to festivals – of course, I would send our films to all possible festivals where they just fit. Going forward with the "zero budget" is always a bit more challenging and you have to be a bit more creative, but we're going ahead, said the grandma in the desert.
How to use the online services?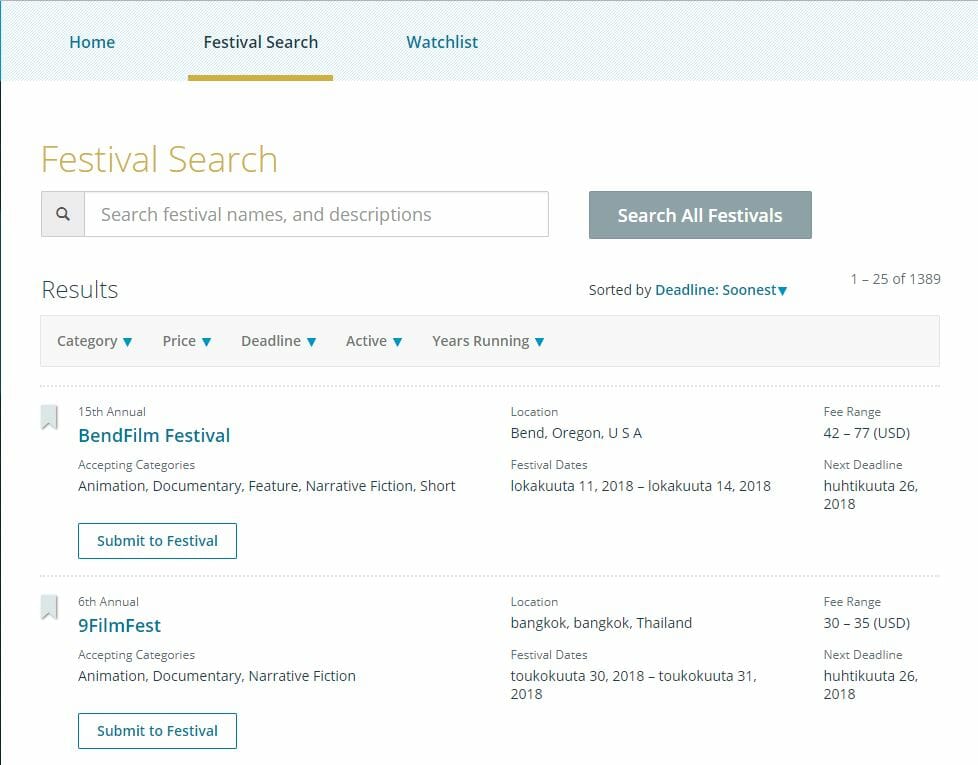 Of the three web services (that I mentioned) I have had most experience with Withoutabox and Reelport – with Filmfreeway I have not touched beyond the front page. I have used Withoutabox for years now and I can tell that it is a really easy to use, versatile site and certainly free. Withoutabox works like that you need to create a "project" for each of their your films, and fill every project with all the details of the video / film: length, specifications, year of completion, accurate info about crew, artwork, synopsis, and so on. Creating a project and filling out the information is usually the most laborious step. Once the project has been created and the information is filled, then it's easy to send the project to the festivals: simply browse the festivals in the "Festival search" page and find out whether there is suitable a festival for your movie for a reasonable price. You can now easily browse the festivals by the before mentioned "search criterias" and send your film to a festival a fee. If you try to submit your film to a festival that is not suitable, the site will say for example "your film is too long" or "the category is wrong / inappropriate". At this point, there is nothing to do but start looking for the next possible festivals.
Earlier, I was talking about the newsletters and I'm now emphasizing that it is worthwhile (at least) to order a Withoutabox newsletter. For example, you can get compilations like of "the most interesting festivals" and stay on the map which festivals will begin (early bird) and which festivals will end their submitting periods. With a newsletter there can also come a discount coupons, which can get out 10% of the registration fee, for example. As a rule, I study every newsletter that comes from Withoutabox, because there usually is some suitable festivals that we could send our films to.
Reelport is a much smaller festival browsing online service than Withoutabox, but from time to time I go through Reelport to search for possible festivals. Through Reelport I've submitted to a total of only four different festivals. The Reelport's submission fees for the festivals are not as expensive as in the Withoutabox, and you can submit a film like for as cheap as 10$. The cheap festival fees has at least good thing to me, but it should also be in mind that the Reelport's festivals are in the category of "relatively small and medium-sized festivals" on my opinion.
"Restrictions" set by festivals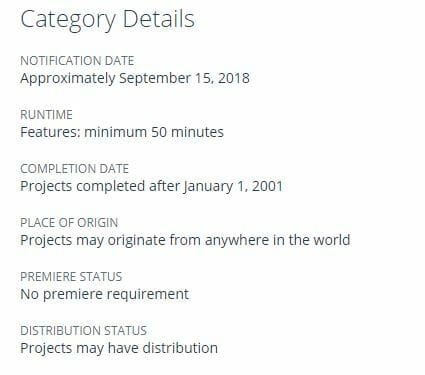 To return to the use of Withoutabox, about the "restrictions" set by festivals, you should be careful. Let's take the situation when I go through the Withoutabox to and I find a suitable festival; first I see how much this festival costs, whether our movie is of a suitable length, to what "category" I want to send our film in (usually film is only suitable for one category, eg "short film"), and then there is a question of whether the festival has distribution or premiere restrictions for the film. With some festivals, there may be a condition that "if you want to send your film to our festival, you must not have shown the movie anywhere in the past". For such festivals I rarely send films because I do not want to restrict the distribution status of our films in any way. So, Even if the festival would be otherwise suitable and reasonably priced – if the festival has strict distribution or premiere status, I will not normally submit a film for those festivals. The premiere restriction means that some festivals (so to say) require the premiere for themselves – which means if you want your movie to be screened at those festivals, the show must be the premiere (at least the premiere of that city or country).
There are all sorts of rules, but it's a good thing that there are plenty of festivals in the world. Fortunately, there are always a lot of festivals that your film can sent without problems and without any restrictions. The biggest restrictions are usually only when we are talking about the big festivals. Smaller and more upcoming festivals do not want to make any restrictions for the submitted films because it would definitely cut the number of people who are going to submit their films (for upcoming festivals) – you know.
What materials do festivals usually require?
What are the things that you need to have be prepared when you start sending your film to festivals? This will be an agenda list, but the reader shall stay on the map. I also speak now from the perspective of Withoutabox. Okay; you should have the best possible version of the film (for example, .mov, .mp4), the Digital Cinema Package (DCP), trailers and teasers, print & flyer & poster pictures, "production pictures", "behind the scenes"-pictures, an article of the film (and the film crew) on IMDb and, the so – called cover letter and of course the money. During the registration, a festival usually requires the "Submission video" version of the film (usually the finished film) that you want to be screened on the festival. There are two options for submitting a (submission) video for Withoutabox: via IMDb and Vimeo. I have used and tried the both options and they are both quite good options. From this finalized version (submission video) you have to have the "exhibition video" version, which will be the actual festival screening version. Often, for the exhibition video the file format is DCP (which is specifically transcoded file format for a movie projector). You can read more about a DCP from an article I wrote previously, you can find it here. If I have not yet clarified the word "screening": it means the moment when your film is officially displayed on a large canvas (on a festival). We are talking about the "screening" of the film.
"Epic fails are the best when you learn something from them."
When I started to send Tutorial-short film to festivals, I did not have the DCP (though I still could not make DCP free for free at the time) ready, so when we were suddenly accepted to DTLAFF that followed an unimaginable rush. After the acceptance notification we had the next couple of weeks time to make a DVD and a DCP versions from the film and send them to Hollywood. At that time I made the DCP via a web service (I won't mention the name of the service) and I paid 200$ for the DCP and now I do a better quality DCP – for free by myself. The program I use to make DCP (for free) can be found here. I might have learned some things from these cases, because when we got finished our latest movie Small Town Hitman, as I started sending it for film festivals, I had all the festival material ready.  Epic fails are the best when you learn something from them.
Here is the tutorial I made on How to make a DCP for free (with DCP-o-matic)
The cover letter I mentioned is important because it is a message that is sent to the festival organizers at the registration – at least when using Withoutabox. I tend to write (to the cover letter) the movie's synopsis, briefly my own comments, maybe a few words about the technical point of view and in the end some friendly final statements. I have tried always to keep the cover letter very short and to the point (but nice), as if thinking how much the festival keepers receives submissions (thousands), so they do not really have the time to read like three A4 amount of text in the form of a cover letter for each registrar. I hope they prefer or have more weight on the Submission video than on the cover letter when they are making decisions. Sure, the cover letter is somewhat important – of course – I do not deny that, but so far I haven't heard inside information – how much the cover letter really means in the selection process. I have studied a lot what would be a good cover letter and nowadays I have like five different bases for cover letters since I have three movies behind me. Well, at least the Tutorial-horror short film has been accepted to Hollywood (film festival) with the cover letter I have written, and I do not think that it is even like "above average cover letter". Well, how do we know these things again for sure 🙂
Be patient with film festivals
The first thing I say is that you really should be really patient with the festivals – and do not expect to hear something from them on tomorrow. The selection process for movies (festivals) usually lasts from one month to half a year, depending on whether you submit your film with early birds or the last ones. Each festival has its own "notification date" (usually film festivals informs these clearly) to indicate when you can submit for the festivals. When a festival finally informs you about the acceptance (or you were not accepted), this process may have taken so long as a.) It feels like we got the movie finished  like eternity ago b.) often I forget about the film's existence during the film festival selection process (because we could have a new movie already under construction) and c.) I haven't even necessarily remembered that I sent the film to that particular festival. Heh. Well, at least you'll be surprised by these emails from time to time. Don't take these festival things so serious and wait for like every day that the festival organizers contacts you – because there's a lots of things to do in life.
For time to time I go and see the Withoutabox's "submissions" section to see where in the selection process the film is at different festivals. For example, you can see whether the movie is in "submitted", "in consideration", "not accepted", or "accepted" stage. If you understand English, then these "stages" can tell you many things. At the moment I have submitted Small Town Hitman  for twelve and Tutorial-horror short for six different festivals. Let's see on how many festivals we will get our films.
Remember to check your spam folder
About "the surprises in the E-mail box" thing, I really recommend watching YOUR SPAM E-MAIL (for other reasons), but especially because of the fact that our FIRST ACCEPTANCE letter went straight into the spam folder . Fortunately, I happened to be see the spam email on a random Tuesday evening, in a halfway through browsing my spam folder and suddenly I found a capitalized header in an email that started with "Congratulations, your movie has been accepted ..". I opened my eyes and read more. For a moment, I still stayed on the ground, I read the message for like a  hundred times and made sure whether the sender really exists and whether this is really an authentic message (since it was in the spam folder). Eventually it turned out that – yes – it was a real message, and then it was time to jump into the air! So we had got into the DTLAFF, which I already talked about earlier. It was a great moment. The funniest thing in that point was to think that the Tutorial (which was accepted to these festivals) was filmed 95% in one day with a zero budget about 20 kilometers from Jyväskylä in a random von random forest. The film was edited in the living room and is now considered to be screened in Hollywood movie theater. Greatness!
It is good to live with knowledge and faith
I have noticed a special effect in recent years: it seems that in Finland nobody takes us indie filmmakers (or any other artists) very seriously before your film has been abroad and so to speak, gathered appreciation there. We have had a lot of discussion with fellow movie-maker friends on this subject; if you first try to get your own indie movie to a movie theater in Finland, it does not succeed quite easily – but if the film first gets screened on many international festivals (and gets some prizes) and after that the film could be taken seriously here in Finland. Same kind of thing happend to a young singer recently – she was not taken seriously in Finland (although she is extremely skilled) only after she made a breakthrough in the British X-Factor program. Now she is doing very good here in Finland. Annoying, but true. Well, you should not live in the flames, but you should use this information for good – that is, if you make movies, send them first abroad and then have them better received in Finland.
"If this is what you really want to do, there is not much importance with the money in that regard."
Finally, I would like to say that DO NOT give up, even if you won't be accepted to the first or even second film festival, I would bravely encourage to send the film to the next and the next festival and to believe that at some point it will be accepted. For us, the success rate has been small – would I say that the 2/10 of the festival has shown us a green light. In other words, a fraction of the festivals can be reached. I do not even dare to calculate how much money it takes – in a way, wasted – and maybe you shouldn't count it. If this is what you really want to do, there is not much importance with the money in that regard. It always feels great when you get choosed for a film festival with you film. Someone has looked and evaluated your work and selected it for their festival for screening. Great! A chance for new opportunities!
Keep the targets on the clouds and feet on the ground!
Hi, thank you for reading this article! Do like it and share it if you think it had good info, or it was interesting. If there are any questions about the subject – or anything else, hit me with a message! Cheers!
Share this article:
---
GEAR THAT WE LOVE, USE AND RECOMMEND
Like OLOHUONETUOTANTO (Living room Productions):