EDIT.org — Awesome FREE & online graphic editor
October 18, 2019 Inspiration & tips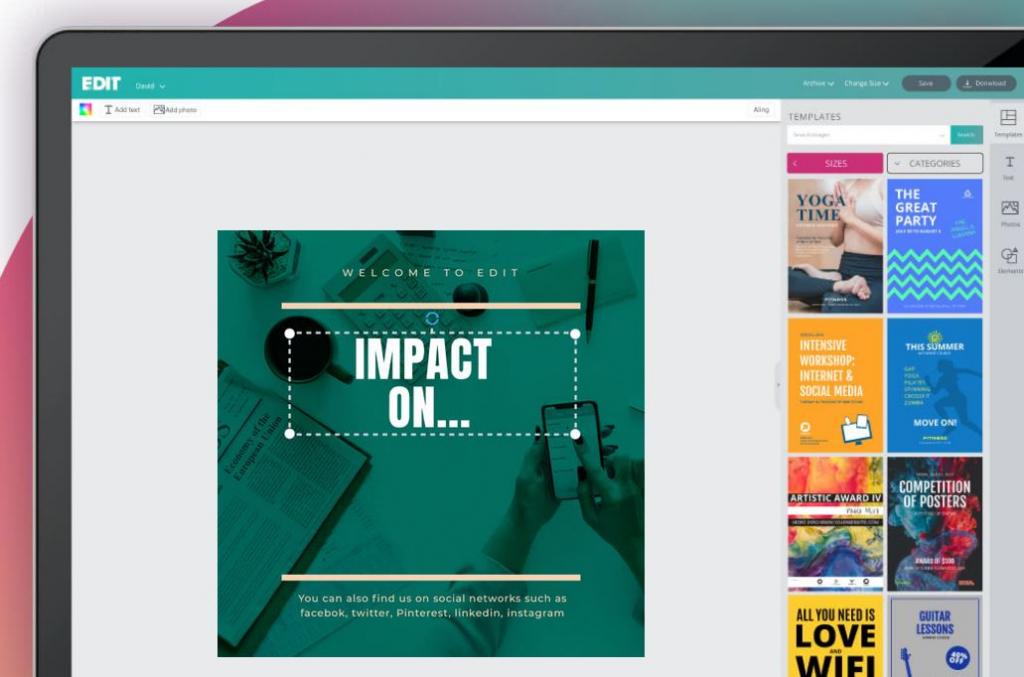 Design graphics online for free
Heys! — I explored this subject again: can I find a free and good online image / graphic editor working directly in the web browser? Actually I found one — and it's called EDIT.org. This article explores a little of EDIT's features and everything you can do with it — also is it easy or difficult to use?
Canva's competitor
You must have heard of Canva? Canva is also a free & browser-based image / graphic design editor. Canva has been around for a long time + gaining popularity. So — I will inevitably compare EDIT.org to CANVA because I've used it so much (canva) before.
What on earth is EDIT.org?
EDIT.org allows you to design your own pictures, posters, resumes, Youtube thumbnails / covers, Facebook covers and other quickly and easily. Choose from dozens and hundreds of free pre-made templates and start customizing them to fit your needs. Edit.org is a epic browser-based (online) free graphic editor designer.
EDIT.org — Free & Online Image Editor & Graphic Design tool
Create an Account — the mandatory evil
The first thing to say is, CREATE YOUR EDIT.ORG ACCOUNT, otherwise there's not much you can do — or you can design something, but you can't download anything to your computer from the software. So — get the account done first and you can get started. It didn't cost anything to create an account.
Below is a picture where I started the program and tested different resume -templates:

As I said above, in EDIT you can really design your own — all kinds of graphic / visual compositions and great design.
EDIT.org should work on all devices
You can make designs on a desktop, laptop, tablet or phone — the EDIT's interface bends (at least to some extent) to all of these. Of course, the editing view gets pretty compact if you try to use EDIT.org on your phone (picture below), so of course I recommend using it on a big screen — or at least on tablet size!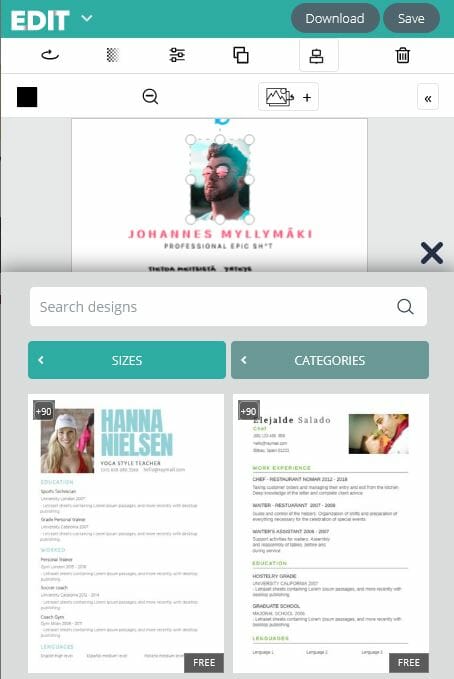 Ready to use templates inside EDIT.org
Here's a screenshot of the cool & pre-made (social media) templates found on EDIT.org: squared banner, Facebook post, Instagram post, Youtube thumbnail, Twitter post etc!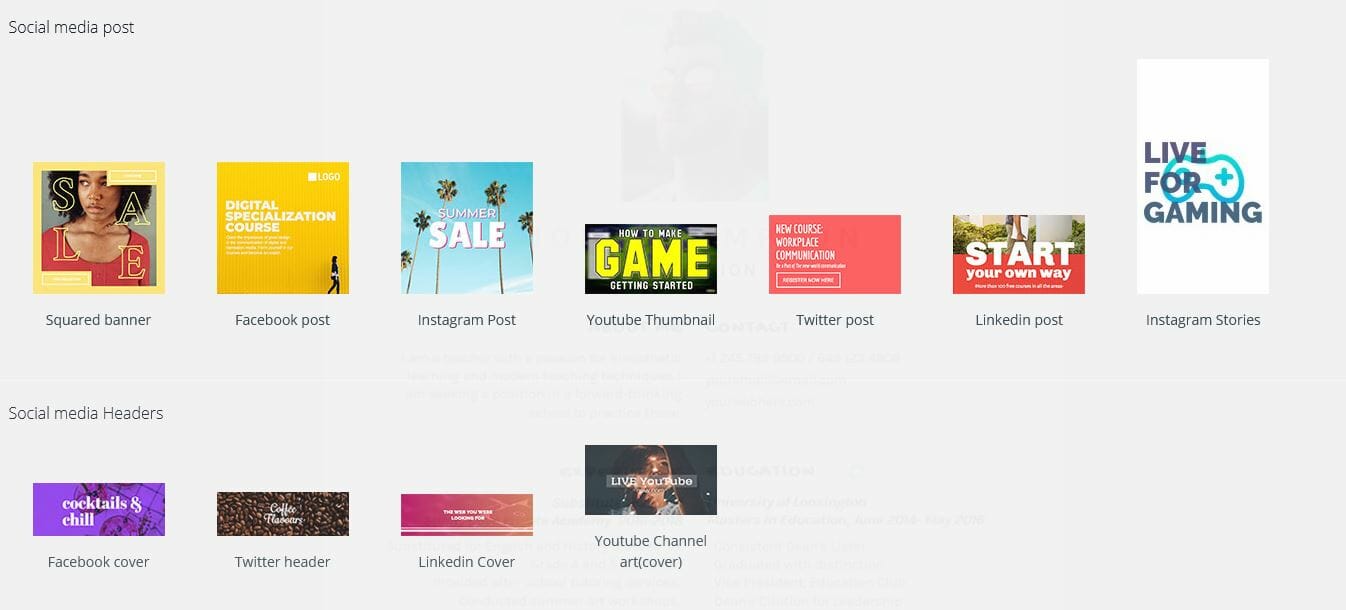 Here (below) another screenshot of the "other" templates found on EDIT.org: A4, Logos, Business Cards, Menus, Invoices, CV Templates, CD Cover Pictures, Gift Cards etc. Here you can choose the right template for your needs and start working on it — by using these pre-made templates you can get hours of work ahead!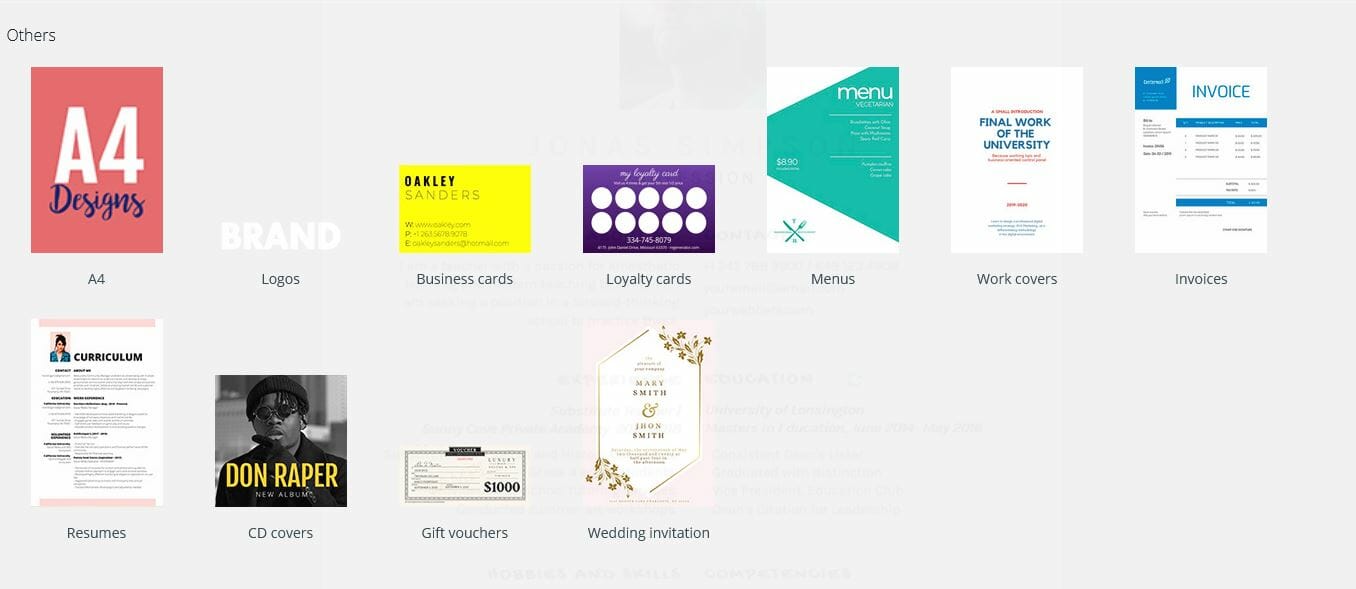 You can also make your own — custom sized design, or use the pre-made sizes: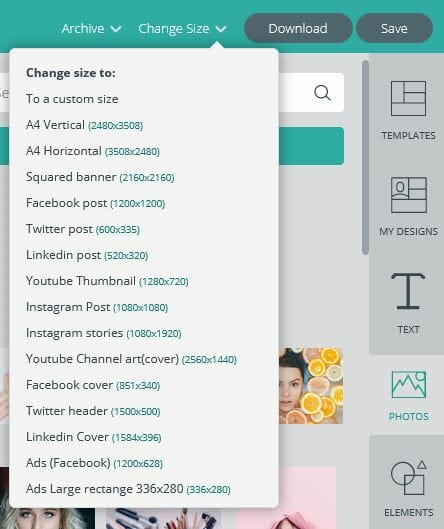 Use royalty free Images
You will find the PHOTOS -section on the right side of EDIT.org, where you can browse through thousands of free images that you can use to create your design. By default the PHOTOS -section will throw you just a few pictures, but if you TYPE something in the search box, then the program will give you a lot more pictures.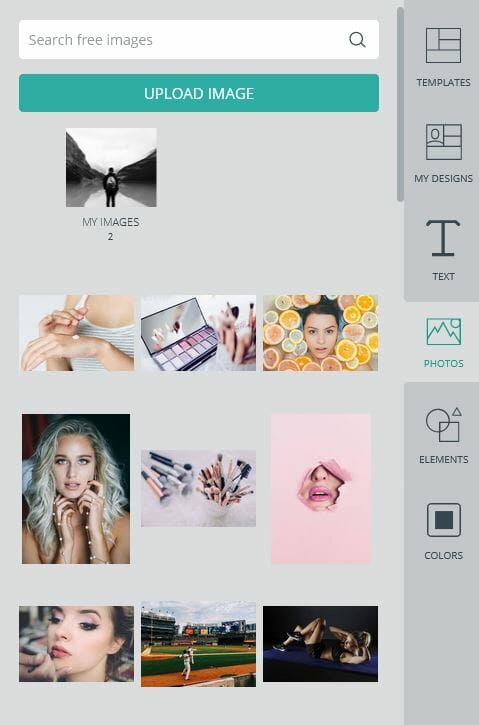 This COULD work like this: at least to my taste — that by default the software would give you lot's more random images.
Okay — let's start designing!
Yeah, let's just start doing! Below I tested how easily I could create a Youtube cover picture — the most below layer there is a royalty free image (the mountain landscape), "above" that comes the transparent purple "color layer" and the text on top of all I took from the pre-made templates and edited it. Quite simply such thing happened, no problem at all.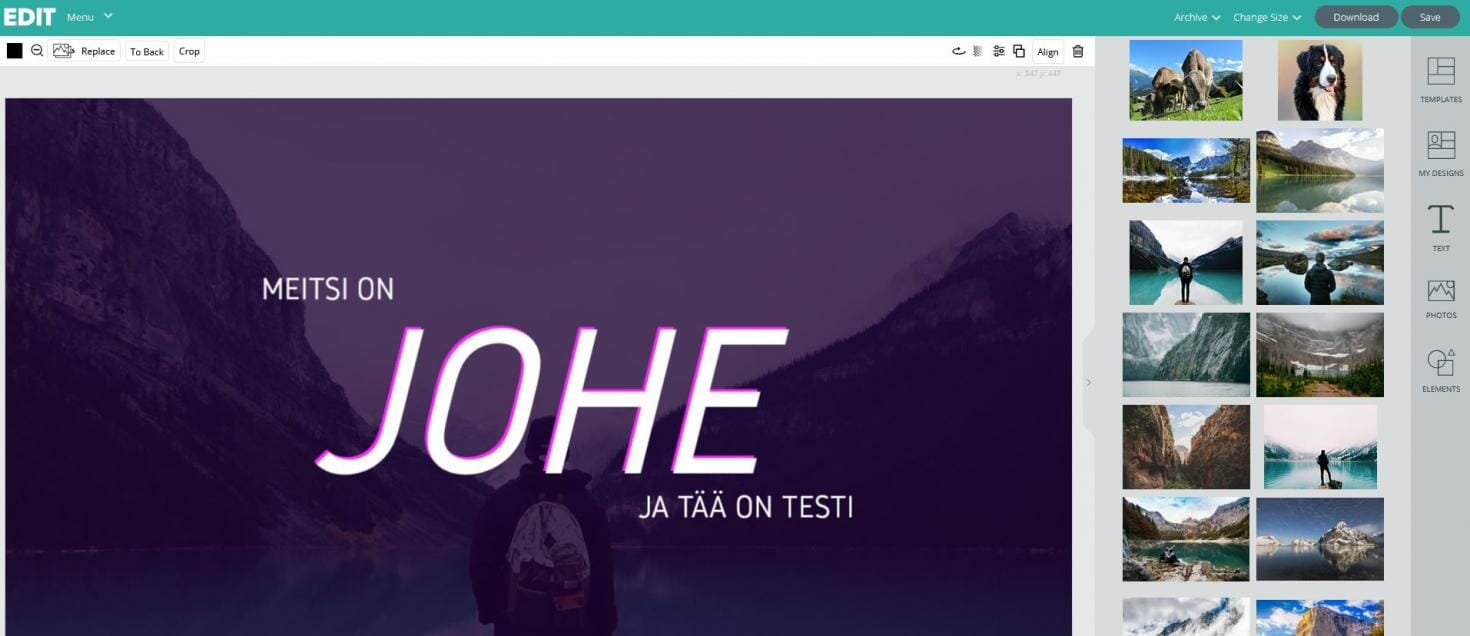 Past experience is always helpful
If you have used ANY image editing software before — this experience is of course helpful when you are using a software like EDIT for the first time. In EDIT the creation of your design & images happens in the so-called the "layer way" like I just explained above — bottom (layer) we have the mountain picture, above that the transparent purple layer and then comes those texts. MOST UPPER LAYER IS SHOWN — that's always the rule of thumb when using layers.
If you have NO experience with design software at all — of course you might just have to spend a little more time getting to know how programs like EDIT / CANVA work.
Downloading your graphic design
Well, once you have finished your design with EDIT, you need to get the picture downloaded to your computer somehow. Well — EDIT has three options for getting things out of the program.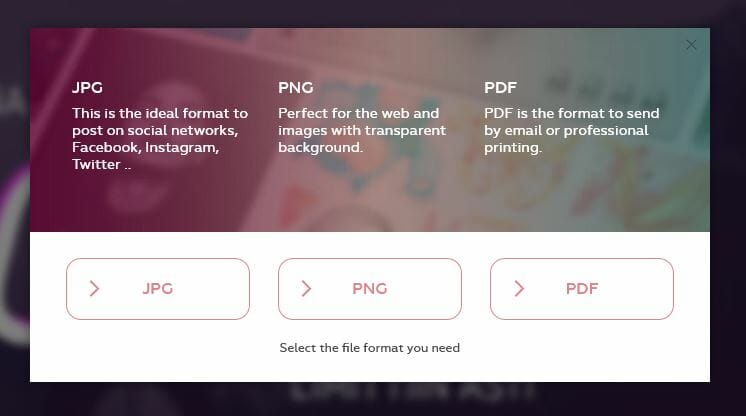 You can download your finished design (picture) in couple of formats; .JPG, .PNG, or .PDF — you can also adjust the quality of the download to fit your needs — for example, whether you want to share your picture in a social media or print it with a printer. The PDF format is there if you want a print-quality image out of EDIT!
Free vs. paid EDIT.org
There is a free and paid version of EDIT! Here you can see the differences in features — you can go a long way with the free version.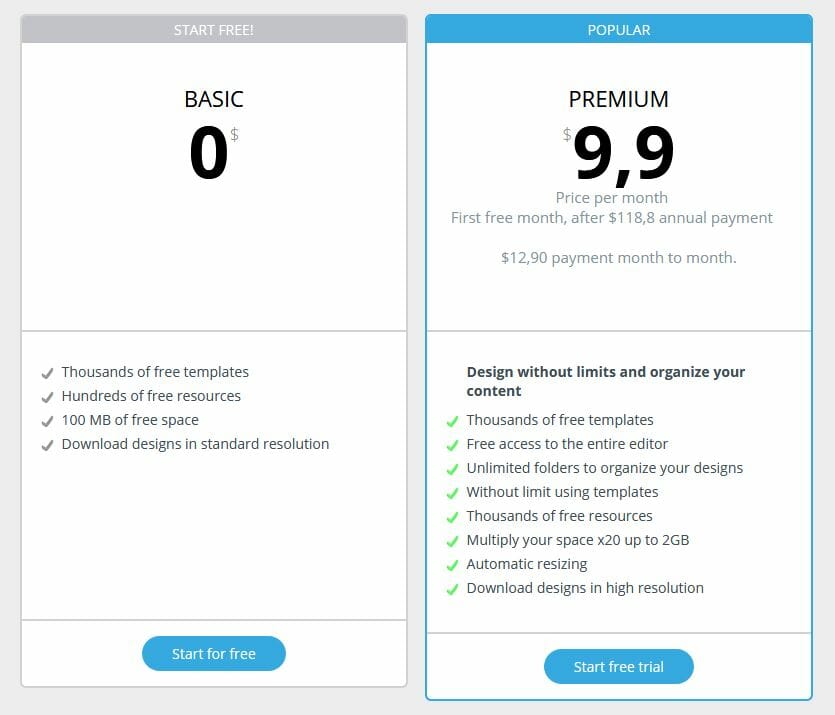 The Conclusion of EDIT.org
In the end EDIT.org seems like a pretty good program with at least by this knowledge what I've tested it now. Editing & designing the images was easy, fast and simple. There are tons of royalty free images to choose from and the searching and using the elements & texts was also nice and simple! Remember to create the free account!
So EDIT seemed a relevant competitor to Canva. After all, EDIT isn't perfect yet, but it's only (hopefully) leveling up!
Ask more info at any time. Thanks for reading!
Other epic articles to read:
Share this article:
---
GEAR THAT WE LOVE, USE AND RECOMMEND
Like OLOHUONETUOTANTO (Living room Productions):