The Best & FREE Video Editing Program also Beginners will get Started with
August 18, 2018 Inspiration & tips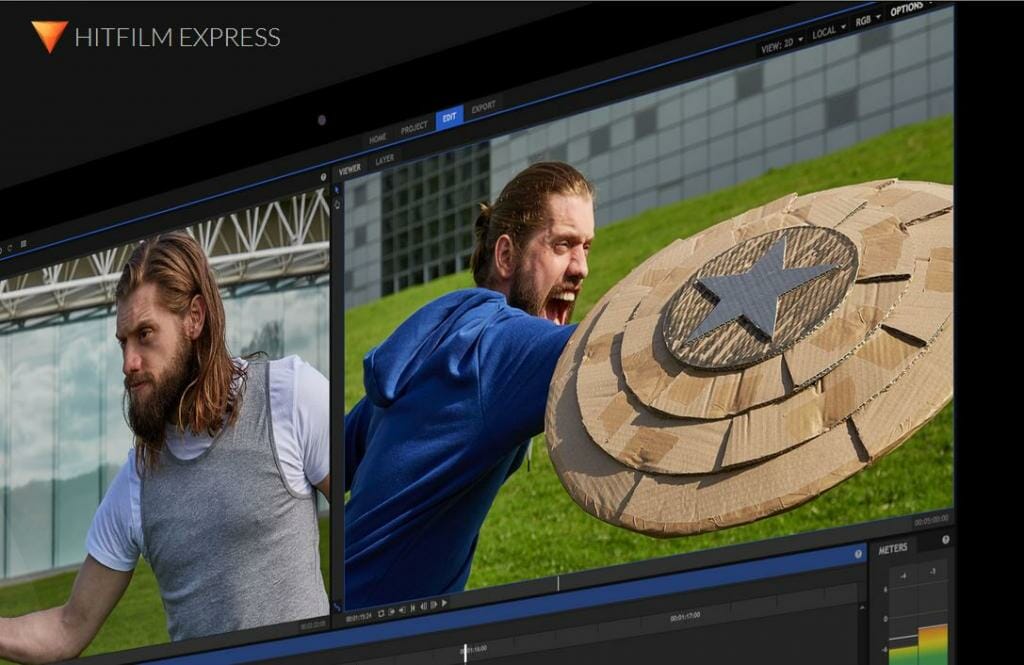 If you are used to using Adobe Premiere in work and for example you would like to use Premiere when home but don't have money  — there is indeed a very good and priceless alternative: HITFILM EXPRESS!
Yes, HitFilm Express
I have advertised this program diligently every time someone asks me that whether there are really free (and good) video editing programs. As said, I do all the video editing work with Adobe Premiere and I had a blast when I used HitFilm on couple of projects — because it works in a similar way to Premiere (its interface, UI is similar to Premiere). It was easy to jump on using HitFilm and I could find things and tools from the user interface very fast after small deduction.

HitFilm should be easy to use even if you are first timer

If I try to get in the pants of a first-time-HitFilm-user (or a video editor in general) I think after a small trial and error everybody can use HitFilm. Of course — if you have NEVER done ANYTHING on video editing, maybe you need  a longer moment to learn everything, because all is new. But, HitFilm is really a very clear program — at least if you consider watching one or two tutorials (I will link these tutorials to the end of this article). And if you think this from the other direction, for a first-timer editor this "Premiere similarity -thing" is also useful — I mean if you are learning and "getting used" to using HitFilm and you may want to switch to Adobe Premiere at a later date — you will learn Premiere in seconds because you have used HitFilm.
If I have not mentioned it yet; There are two versions of HitFilm: HitFilm Express and HitFilm Pro! The Pro is of course paid version and HitFilm Express is free.
If I speak in this article about "HitFilm" (or "HitFilm Express") I mean the same thing. When writing this article, HitFilm has been downloaded almost three million times. I bet that quite a lot of downloads have come through Film Riot because Ryan has promoted HitFilm in many of the Film Riot videos.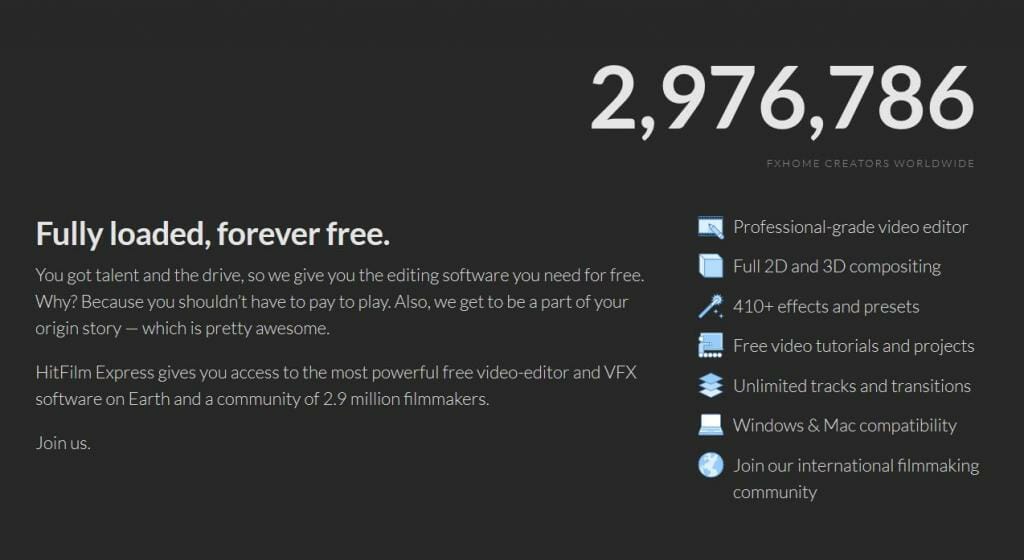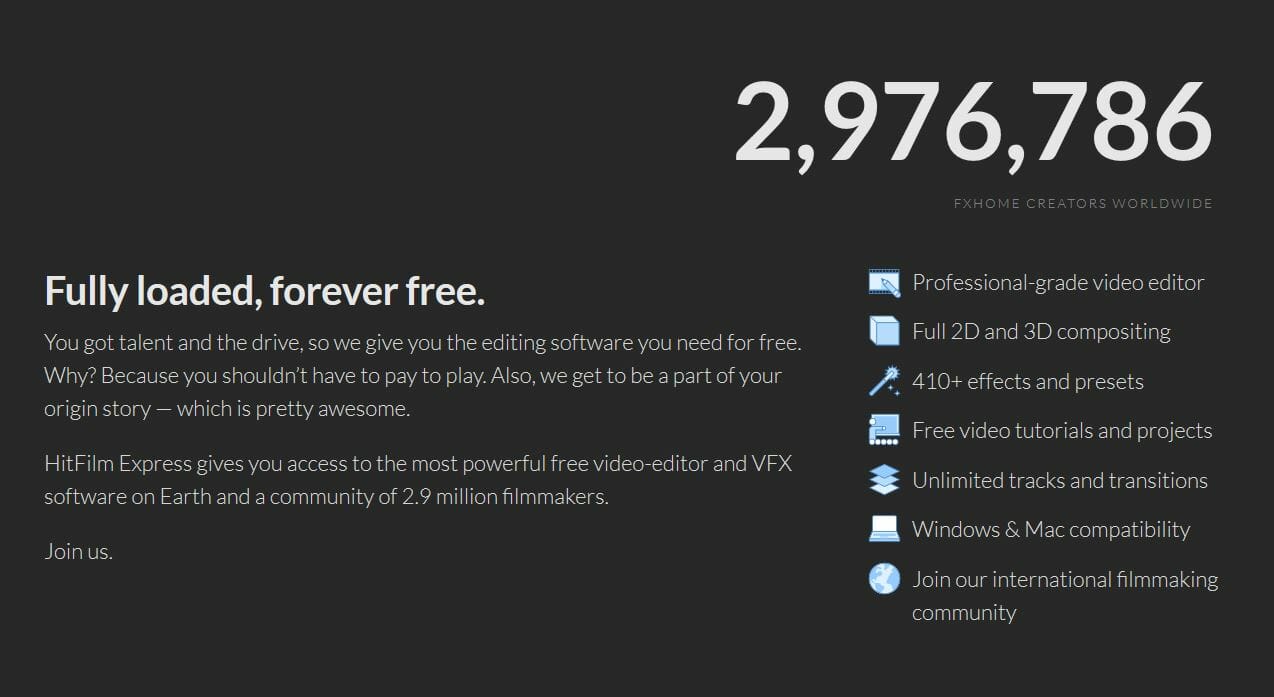 How far you can get with HitFilm?
To speak the truth — you can get to a certain point with HitFilm Express (but very far actually). You can edit eg Youtube videos, short films, interviews, simple customer work, and (simple) videos you have filmed in home, maybe. As they say on HitFilm's webpage "HitFilm Express. Perfect for Students, YouTubers, and Beginner Filmmakers." Yeah, that's absolutely true. And when you buy additional tools for HitFilm like color grading, audio tools and other useful effects I think you can start to use HitFilm for more advanced projects.
I would not do BIG customer projects with just HitFilm Express (and no add-ons bought) myself because the Premiere CC is more familiar to me. And this doesn't mean that YOU couldn't do BIG projects with HitFilm — certainly you could! And — HitFilm Express can certainly save the day if you do not have the access to Premiere (or other programs).
What features does HitFilm have?
HitFilm has many good and professional features!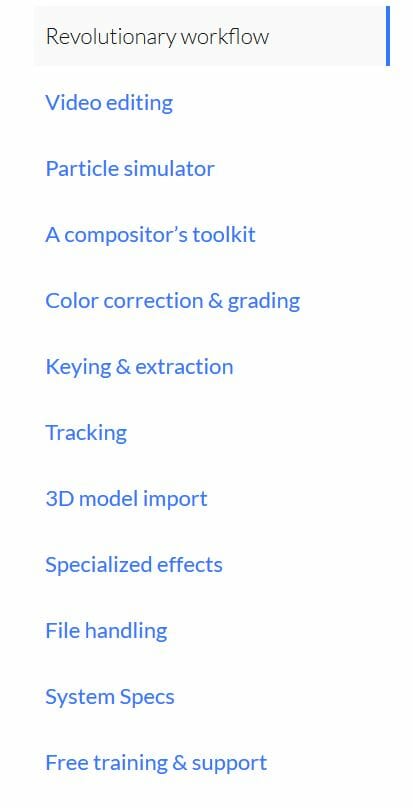 Many of the features shown in the picture (right) may not tell you anything if you are a beginner, but of course if you already know something about editing they makes more sense. Many of the features are also paid features (the add-ons) (!) or to be more clear the basic features under those "titles" are free, but for more advanced features you may have to pay something.
Here you can see the list as broken down. Let me explain few features to here:
HitFilm has basic editing features
particle simulations, you can create smoke, fog, rain, etc.
composite scenes, compare to After Effects, visual effects
color correction & sharpening tools, you can adjust the colors of your videos and color grade your films

keying tools, that is you can "key" someone our from a Green Screen background, for example
tracking tools — you can "track" moving people, objects, etc. and put for example a text element to move with the tracked movement

Import 3D models — you can import 3D models into HitFilm
Special effects, a long list of the various effects that HitFilm has

File Handling — you can handle various video, image & audio files in HitFilm
If you do not understand what I'm talking about here, just ask me!
How can you get HitFilm?
First go to HitFilm Express website and hit the "Get HitFilm Express Free" button.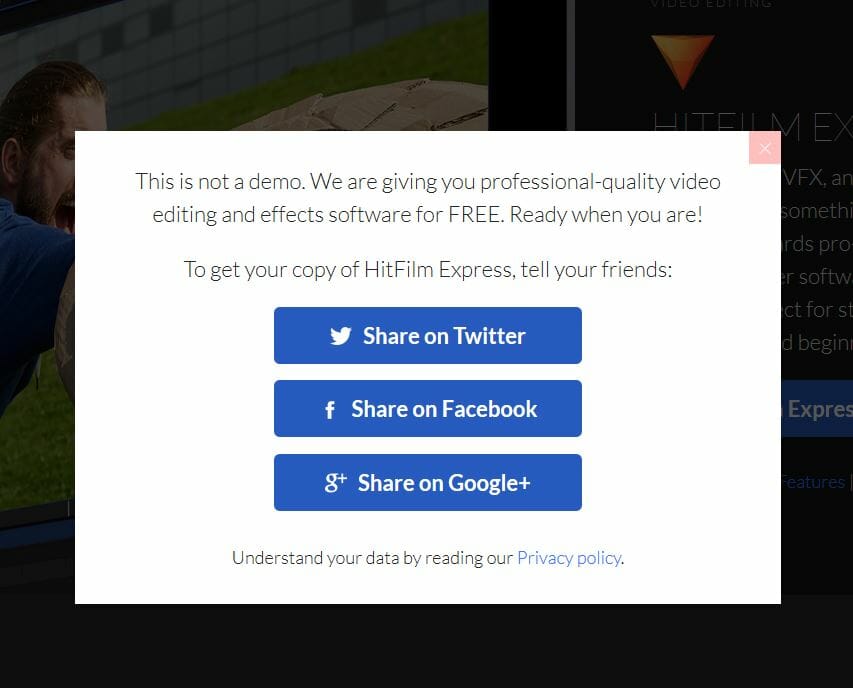 You need to share HitFilm link in one of your chosen social media (before downloading HitFilm to your computer). It's the only "payment" at this point on using HitFilm. Still, I think it is a small "fee" compared to what you can achieve with the program for free!
HitFilm can be downloaded to Mac or PC. I use a PC and haven't had any problems when installing HitFilmin (twice).
When you start HitFilm, you must create an account (email & password) and then you can "log" into HitFilm. I ordered the HitFilm newsletter, so I get news about new tutorials and offers — which have been quite interesting so far.
On the left side of the "home screen", you'll see the add-ons that you can expand HitFilm if you like. There are lot's of add-ons and they usually cost from ten dollars to a tens of dollars. Or you can directly buy HitFilm PRO if the free version is not enough.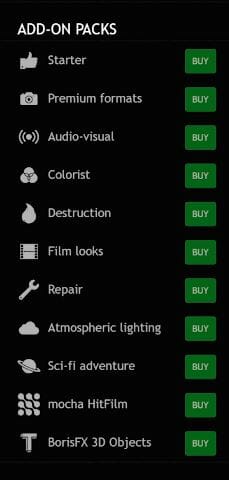 Does HitFilm work on your computer?



I picked up the technical requirements from HitFilm website:
Apple: macOS 10.13 High Sierra, OS X 10.12 Sierra or OS X 10.11 El Capitan

Windows: Microsoft Windows 10 (64-bit), Microsoft Windows 8 (64-bit)

Internet connection:

Required for online activation

Processor: Intel Core i3, Core i5, Core i7 or AMD equivalent.

RAM: 4GB (8GB Recommended)

Graphics card:

NVIDIA GeForce 400 Series (2010)

AMD Radeon HD 6000 Series (2010)

Intel HD Graphics 4000 (GT2) (2012)

Video memory 1 GB minimum (2GB or more recommended for 4K UHD
If these technical requirements are filled, HitFilm should be able to roll smoothly on you machine. And therefore — I am quite sure that if you have bought a new laptot or PC within the last two years — so yes HitFilm will be installed on the machine without problems and you can quite easily edit small videos and larger projects. So, no worries.
What file formats does HitFilm support?
MP4 H.264 Import & Export (Import & Export)
AVCHD Import (Requires HitFilm Pro or Premium formats)
QuickTime Import (QuickTime installation requires Windows)
AVI, M2T, M2TS, MTS, MXF (DVCPro HD), DV, HDV, WMV Video Imports
HitFilm Pro also supports OpenEXR, Apple ProRes (Mac), GoPro CineForm (Win)
The free version of HitFilm lets you export Full-HD and couple of other quality .mp4 -videos. And that is already pretty much enough. The .mp4 -file format is the main video format when you think for sharing your videos on the Internet. The .mp4 -file format maintains a relatively good video & audio quality and the file sizes are also very small.
How can you learn HitFilm?
There are plenty of tutorials and materials about how to use HitFilm. I promised to share a few beginner tutorials here. Also I will link couple of other places where you can find more information about the program.
Here's the first tutorial for beginners:
Here's another beginner-tutorial:
Here's the HitFilm -Youtube channel:
Just for inspiration — this short film was made by Film Riot and was edited with HitFilm:
So, let's start making the next big "Hits"!
HitFilm Express really is a great program — that's why I'm talking about it here. Very strong suggestion. Keep in mind that the you can ask for more information from me (or just watch the tutorials).
(The pictures in this article are taken from HitFilm's website and there are also screenshots of the HitFilm-program)
Share this article:
---
GEAR THAT WE LOVE, USE AND RECOMMEND
Like OLOHUONETUOTANTO (Living room Productions):