Affordable good quality lighting kit from Neewer
May 22, 2018 Blog
Because of the "zero budget"
Just bought these amazing Neewer lights from Amazon for a very cheap price – under 300€ including postal costs (to Finland). You can buy these lights from here. We just want to share the goodness and awareness of the product, because we always go by "zero budget" on filmmaking, and these lights were very affordable. SO,  a very good price for two lights with ADJUSTABLE light intensity and the COLOR (from warm to cold). Nice!
Buy the kit here:
The Product description:
Neewer 2 Pieces Bi-color 660 LED Video Light and Stand Kit Includes:(2)3200-5600K CRI 96+ Dimmable Light with U Bracket and Barndoor, (2)74.8 inches Light Stand for Studio Photography Video Shooting.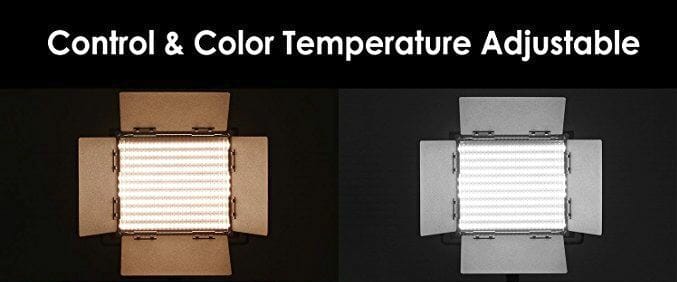 Bi-color LED Video Light:
With its lightweight and durable construction, you can carry this light around with you wherever you go. Features with color temperature knob, can adjust the color temperature from 3200K to 5600K. White diffuser can make soften the light source and enhance skin tone in portraits photography. Adjustable U mount bracket makes the light toward different angle for the best shooting. Provides light control with four leaf barn doors.
Technical info about the product:
LED Beads: 660 Pieces(330 White+330 Yellow)
Voltage: DC 12V
Power: 40W
Color Temperature: 3200-5600K
Lumen: 3360Lux/m
CRI: ≥96
Power Source: Power Adapter(included) or NP-F550 NP-F970 Li-ion battery(not included)
Battery Output: DC 14.8V
Size: 232x200x48mm
Inpute Voltage: 220-240V/50HZ
Light Stand:
This adjustable light stand is constructed from aluminum alloy, giving it exceptional strength for heavy duty work.
Solid locking capabilities ensure the safety of your lighting equipment when in use.
Compliant with industry standards, this stand supports all major photo equipment including reflectors, softboxes, lights, umbrellas, backgrounds and more.
Folded height: 36.2inches/92centimeters
Maximum height: 74.8 inches/190 centimeters
Net weight per light stand: 3 pounds / 1.36 kilograms
Max. Load capacity: 13.5 pounds / 6.12 kilograms
Spigot: 1/4 or 3/8
Segments: 3

Package Contents:
2x Bi-color LED Video
2x White Diffuser
2x Power Adapter
2x Power Cable
2x Carrying Case
2x Light Stand
If you got some interest here, you can buy these lights from here »
Share this article:
---
GEAR THAT WE LOVE, USE AND RECOMMEND
Follow OLOHUONETUOTANTO (Living room Productions):