Adobe Premiere EXPORT FAILED — Premiere & After Effects LINKED COMPOSITION problem
May 5, 2019 Blog, Inspiration & tips
Linked Composition FAILS during EXPORTING
Are you working with Adobe Premiere AND After Effects? Do you have linked composition (s) on your Premiere timeline? Many times it's because of the LINKED COMPOSITIONS you can't get the video EXPORTED out from Premiere. In this video we are explaining how to the the video exported correctly out of Premiere.
The error messages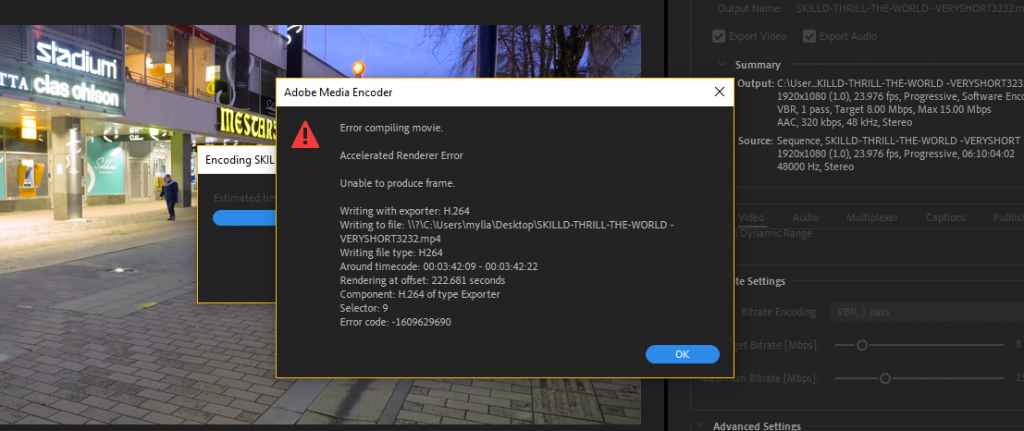 You try to export video from Premiere Pro CC and the exporting fails for some reason: the error message usually is like "Error compiling movie" or "unable to produce frame" etc. It usually gives you some information about the problem — like the timecode, where the error happened. The timecode is nice — because then you know WHERE the error happens.
But for THIS (linked compositions) -problem I tried many things and ways on how to fix the error & get the video exported correctly out from Premiere but NOTHING worked.
Google ads
You should watch also this video I made a month ago:
WHY does the error happens?
USUALLY the error happens when you use lot's of EFFECTS in the edit. I wrote about this in my last article. Effect that has often caused me this problem is LUMETRI COLOR -effect and couple of others. Of course it could be something else (than effects) which is causing the error, but that's whats usually happening with me.
The tip of this video:
Locate the timecode of the exporting error
EXPORT the parts — linked composition (s) (from AE) which caused the error
IMPORT them to the Premiere timeline
Put the parts above the linked compositions
Conclusion
Ask more at any time. Also read my previous articles.
Other articles to read:
Share this article:
---
GEAR THAT WE LOVE, USE AND RECOMMEND
Like OLOHUONETUOTANTO (Living room Productions):